B L A C K S W A N L A N E – beneath the dead leaves
(click play below to hear)
Helloooooo! (As my Italian friend Alessandro would say ) As Fall approaches, this song seemed appropriate. This is a track that was unfinished and cut off of our seventh release, Under My Fallen Sky. I've remixed it, added a few more
guitars to the middle and end and gave the beginning a cleaner start. John Kolbeck and I even created a 1:30 acoustic version that was going on the last album, but was consequently cut because it just didn't fit well with the other tracks. Apologies for being away for a while, but I've had my share of health issues and injuries again. One day I will learn how to take proper care of myself! I've also tentatively decided that we have one more album in us, so I've also been quite busy in the studio creating new music. This track is dedicated to all of my friends who have messaged me tackling life issues, depression and deep loss. It's hard to properly write everyone back daily, but please know I truly empathize with your life's daily struggles. Hopefully, this track will give you all a brief smile… j xx
"Black Swan Lane's, Under My Fallen Sky, is an atmospheric rock charm with a British post-punk classic era nucleus and without any doubt, our favorite album of the year." –Timothy John Forker / forksterocks.net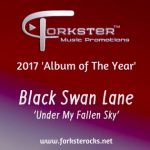 Orders for the physical copy of Under My Fallen Sky can now be made on the store page of our website at blackswanlane.com or click below:
http://blackswanlane.com/store/
Purchase On iTunes below:
https://itunes.apple.com/us/album/under-my-fallen-sky/1314494933
https://itunes.apple.com/us/artist/black-swan-lane/326825126
Listen On Spotify Below:
https://open.spotify.com/album/4gY3nsrfo5HOQWKF6th5qS?si=FkLrfMtlT7i6FR3xTAKGdg
blue always xx jack / black swan lane
Please give our BSL facebook page a like
https://www.facebook.com/blackswanlane
All BSL albums are available for sale at blackswanlane.com, wanderlandmusic.com or digitally on CDbaby.com and on iTunes. Albums purchased on our website are processed and shipped out the same day and come with a BSL guitar pic, sticker and signed postcard.
Thanks for listening and please spread the word and tell every person you know about BSL !!
Please do not copy or distribute this song

,
BLA CK SWAN LANE, beneath the dead leaves
© 2018 BMI • Wanderland Music Publishing, Inc. • EDEN Records Group
® All Rights Reserved. For Use By Permission Only.
23 Comments for Song of the Month